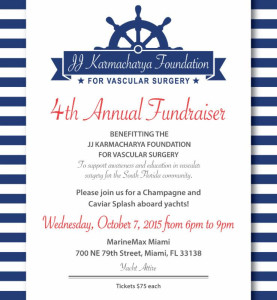 This next October 7th takes place the 4th Annual Fundraiser benefitting the JJ Karmacharya Foundation for Vascular Surgery.
The aim of this initiative is to support awareness and education in vascular surgery for the South Florida community.
There will be Chaviar Splash and Champagne. The event will be take place in a yacht, so please, wear your favorite yacht attire.
Takes available: $75 each.
Purchase Tickets Here –> http://www.sfsvs.org/jjkf-fundraiser-tickets
For questions, please write to drjjcharity@gmail.com
More about the JJ Karmacharya Foundation for Vascular Surgery (JJKF) –>http://www.sfsvs.org/foundation