Big Brothers Big Sisters of the Sun Coast – Rally for Littles is an event that will take place this December 15th, 2018.
Big Brothers Big Sisters of the Sun Coast holds itself accountable for children in its program to achieve measurable outcomes, such as educational success; avoidance of risky behaviors; and higher aspirations, greater confidence and better relationships. The organization provides children facing adversity, often those of single or low-income households or families with strong and enduring, professionally supported one-to-one mentoring relationships that change their lives for the better, forever.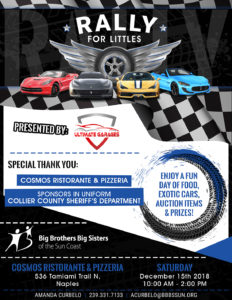 You can help by voting (with a donation) for your favorite car.
The order of cars in the rally will be determined by your donations.
Dr. Hiranya Rajasinghe will be driving car number 113. A magnificent Grey Ferrari 488 GTB.
You can support his car by making your donation on this link:
https://one.bidpal.net/rally4littles/browse/donation(details:item/15)
Come out for a great day of food, exotic cars, silent auction and prizes at our Rally For Littles.